07 May

The e-commerce/ROI evolution is finally here!
Catherine Valyi for ChartFast
The practice of release of information (ROI) was pioneered over 45 years ago. Over time, the same regulations that have created more security have also increased the complexity and resources needed to accomplish the once-simple task into a behemoth process with multiple steps and many points of decision.
Why did it take so long to get it right?
Although it has been the intention of dedicated ROI advocates to innovate the request for records process, many have wondered why it was taking so long to accomplish. The answer lies in the complicated forty-five-step process designed to not only meet complex HIPAA compliance guidelines but to make it is as secure as possible for both the requestors and providers. Additionally, many vendors that have been in the business for decades already have a complex architecture in place. Therefore, they find it difficult to change because the solution will most probably disrupt their current workflow. True innovation requires essential changes that must incorporate the elegance and sensibility of modern e-commerce functionality without sacrificing the fundamentals of security that are the foundation of the forty-five-step process. It was a definite challenge that would take a visionary to bring to light.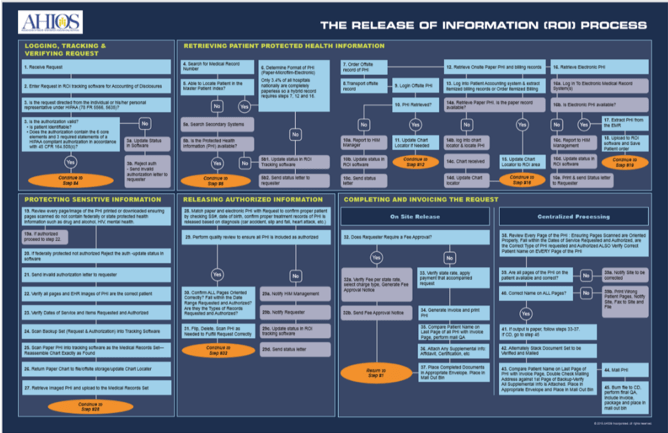 Fig 1. Release of Information Process (AHIOS)
Staying on course to keep the design focused on providers and patients is a challenge for some.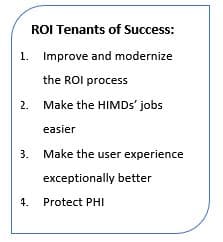 For ChartFast, success would only be achieved through a combination of several key factors. The convenience and speed of e-commerce in addition to several crucial ROI tenants that include: the modernization of ROI, keeping the users in mind, and creating a workflow that is easy to follow in an extremely secure and transparent environment. Past workflows that were accepted as the norm were also mired in manual intervention or a result of multiple products being cobbled together. A recent iteration of ROI that placed expedience as its main feature is leaving Health Information Management Directors (HIMDs) feeling disappointed and left out of the process.
The ability to apply e-commerce sensibility to ROI was now a reality.
ChartFast understood that the evolution of ROI was an absolute necessity; it also firmly believed that it was important to keep requestors and healthcare organizations as its north star in the design process. Product development would, therefore, support and not circumvent HIMDs' authority or cloud their visibility of the process. Subsequently, ChartFast created Release Pro™, a robust cloud-based platform that embraced the convenience of e-commerce, a process that has changed the shopping experience for consumers around the world. It then made that technology available for healthcare providers and their patients. ChartFast combined communication, fast turnaround, tracking, accounting of disclosure, and security in an easy-to-use platform. Finally, the forty-five-step manual process was revolutionized.

 The impact of eCommerce for ROI by ChartFast was immediate. 
A once-clunky, drawn-out process is now modernized with ChartFast. A historically manual and slow workflow is now fast and elegant. Requesters have access to a higher level of accuracy, faster speed of delivery, and real-time updates that create a transparent and user-friendly experience.
The ChartFast's Release Pro™ is the e-commerce answer to ROI. Healthcare organizations and HIMDs have a modern and easy-to-use solution that was designed to match their specifics needs while enhancing their patient satisfaction initiatives. Finally, they can check one formerly complicated and antiquated proccess off of their lists.